Dr. Able (Wenning Zhao)
Serving the North East Ohio, Cleveland area located in Maple Heights
Call us at (216) 581-0321
For more information or to schedule an appointment with our Maple Heights chiropractor, call (216) 581-0321 today!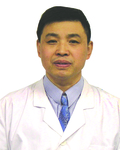 Dr. Able (Wenning Zhao) graduated from Medical College in China in 1982 and practised in a hospital in Beijing since 1983; He also graduated from Chiropractic College (Palmer College of Chiropractic) in USA in 1994. The Able Chiropractic and Alternative Health Care clinic was established in 1995. Dr. Wenning Zhao is a licensed Chiropractic Physician in Ohio, Acupuncturist trained in China and registered in Ohio Medical Board, NCCAOM (National Certification Commission for Acupuncture and Oriental Medicine) certified diplomate.
"Getting well through natural ways" is the best, wisest choice for health. All natural healing methods here such as Acupuncture, Chiropractic, food supplements and herbs will benefit many different conditions and will not have the side effects common to drug or operative trauma. No matter what health issue you may have, you should try the natural ways to get help; You may be surprised by the result!
If you have not been to a chiropractor before and want to find out more, please Email Us or call (216) 581-0321 to receive the answers to your questions from our experienced team. We also welcome referrals, so we invite you to use the "Send to Friend" link to share our chiropractic and wellness information with your friends and loved ones.
If you would like to stay informed about the latest in chiropractic care or if you want to start receiving free articles about health and wellness news, subscribe to our bi-weekly newsletter, even if you are not a patient. We also offer a member wellness area which includes our animated exercise videos, wellness articles, and other healthcare resources.
Digestive
Abdominal pain
Constipation
Diarrhea
Hyperacidity
Indigestion
Emotional
Anxiety
Depression
Insomnia
Nervousness
Neurosis
Eye-Ear-Nose-Throat
Cataracts
Gingivitis
Poor vision
Tinnitis
Toothache
Gynecological
Infertility
Menopausal symptoms
Premenstrual syndrome
Miscellaneous
Addiction control
Athletic performance
Blood pressure regulation
Chronic fatigue
Immune system tonification
Stress reduction
Musculoskeletal
Arthritis
Back pain
Muscle cramping
Muscle pain/weakness
Neck pain
Sciatica
Neurological
Headaches
Migraines
Neurogenic
Bladder dysfunction
Parkinson's disease
Postoperative pain
Stroke
Respiratory
Asthma
Bronchitis
Common cold
Sinusitis
Smoking cessation
Tonsilitis
Source: World Health Organization United Nations. "Viewpoint on Acupuncture." 19 19 (revised).23

What Problems Can Chiropractors Help?
(Note: We are a provider for most injury cases such as Auto Accidents, Worker's Compensation. We will work with you, your attorney, and insurance.)
| | | |
| --- | --- | --- |
| Neck Pain | Whiplash Pain | Headaches |
| Low back pain | Leg pain | Sciatic pain |
| Mid-back pain | Shoulder pain | Rotator Cuff pain |
| Rotator Cuff pain | Frozen shoulder | Tennis Elbow |
| Golfer's Elbow | Wrist pain | Muscle pulls |
| Hand pain | Hand numbness | Knee pain |
| Ankle pain | Plantar Faciitis | Scoliosis |
| Hip pain | Arthritis pain | Infantile Colic |
| Fibromyalgia | "Slipped" disc | Carpal Tunnel Syndrome |

Acupuncturist and Chiropractor in the Cleaveland Area |
Able Chiropractic & Alternative Health Care Inc. |
Zhao's Acupuncture
15751 Broadway Avenue
Maple Heights, OH 44137
(216) 581-0321